Ensure your fulfilment storage facility is a location that can service your customers across the UK and internationally.
Big Web Warehouse is a provider of e-fulfilment and warehousing services. Based in Peterborough in the heart of the UK we have access to the main road networks covering the North, South, East and West of the country.
As your business grows, order fulfilment can become difficult to manage.
We work closely with our customers by listening to their specific needs. We then provide a tailored service to ensure continued success and business growth.
Our Order Fulfilment Services
Big Web Warehouse offers a variety of solutions that are flexible to suit your fulfilment needs, regardless of the size or scale of your operation.
Our fulfilment services involve receiving, booking in, picking, packing, checking and dispatching orders to your customers. From sending single units to the end user, to orders consisting of hundreds of pallets.
Crucially, whatever your requirements, we offer industry leading flexibility. This allows you to work with multiple sales channels simultaneously.
Think of us as an extension of your team.
Our Complete Process
Partnering with us is simple and takes little effort on your part. You're in control, but we take care of the heavy lifting. Our flexible pick and packing service means you can get the exact requirements you need.
Find out more about how the pick and pack process works below.
GOODS ARRIVE
Goods arrive by container, pallet or courier.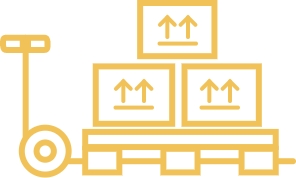 GOODS IN
Our team palletise your stock and use the barcode to book it into our bespoke warehouse management system.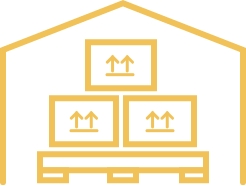 STORAGE
Your pallets are racked and stored, ready for customer orders.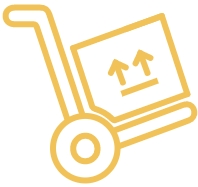 PICKING
When an order is placed through our portal, our team sets to work picking the items.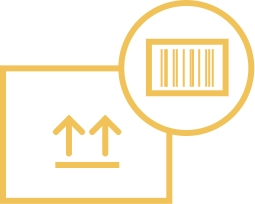 QUALITY CONTROL & PACKING
Product barcodes and quantities are checked to ensure the correct item will be received.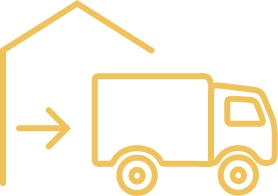 DISPATCH
Your orders are sent via your chosen courier and tracking details are automatically uploaded to your online portal.
Why Choose Us?
Big Web Warehouse should be your fulfilment solution because over the last 24 years we have worked tirelessly to perfect our processes and procedures to accurately pick and dispatch products for over 300 clients.
We can offer you a fulfiment solution unlike any other. Our technological advancements in our machinery such as VNAs, tablets and scanner systems and conveyor belts help us to seamlessly manage your orders.
Our bespoke warehouse management system offers you the ability to work with multiple supply chains simultaneously all under one contract. Meaning you can combine B2B and B2C orders saving your business time and money.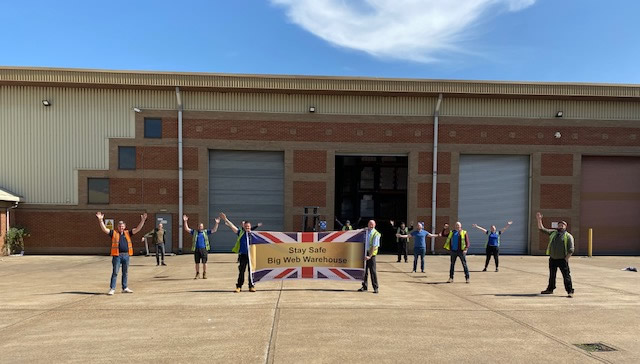 What Our Customers Say
We have worked alongside Big Web Warehouse since 2018 for both storage and the despatching of orders via DPD. This has meant that we have been able to expand our own business as we now have the facility to hold a much higher pallet count. We can always count on the staff at Big Web to both take in our deliveries and dispatch our orders with ease and efficiency which then has made our relationship with all the members of staff a good one
Ian Banks – CBS Power Tools
We moved from another fulfilment facility to Big Web back in 2016 and were concerned about issues we had faced at our previous warehouse – we need not have worried. The team at Big Web have been fantastic, they helped us sort the stock we brought in and created bespoke processes for our orders. We have dealt with the same Big Web team members for 6 years now, they are always friendly and helpful and have become part of the Bloom family.
Sofia Berczely – Bloom Baby
When Bella Bodies decided to enter the UK market in 2017 we weren't sure if it would work so wanted to test the waters. We found Big Web Warehouse who helped us so much from helping with the stock and processes to shipping up to 2,000 units a day. With their help we have grown more than we could have hoped. They are an extension of our team and care as much about our products and clients as we do.

Michel Schumacher – Bella Bodies
Frequently Asked Questions
We've outlined some of our most commonly-asked questions about our e-fulfilment service. However, if you need further assistance, do not hesitate to contact our friendly team.
Request Your Free Quote
We want to give you the best possible value for your business, so we don't offer standardised, off-the-shelf pricing. We offer tailored solutions to suit your specific needs.
Alternatively please either call us on 01733 405100 or email hello@bigww.co.uk.