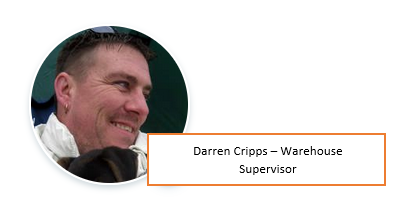 Celebrating 23 Years of Dedication and Excellence – Darren Cripps Achieves Milestone Work Anniversary
In a remarkable display of commitment and dedication, Darren Cripps a cherished member of Big Web Warehouse is celebrating an incredible 23 years with the organisation. The milestone work anniversary recognizes their unwavering dedication and invaluable contributions.
Since joining Big Web Warehouse in 2000 Darren has been a pillar in the company's success. Over the years, they have played a pivotal role in the development of the organisation, earning the respect and admiration of colleagues, superiors, and clients alike.
Throughout their tenure, Darren has consistently demonstrated exceptional hard work and dedication year after year.
When asked about the secret to their longevity and success with the company, Darren humbly attributed it to the strong culture of teamwork, support, and collaboration within Big Web Warehouse, stating "I wouldn't want to be anywhere else. Big Web Warehouse is a great place to work and I am honoured to work here".
Colleagues and management have nothing but praise for Darren. Jae Lester (Director) commented, "Darren is an invaluable asset to our team. His dedication is unmatched. Darren's flexibility has been fantastic, adapting to any situation has undoubtedly contributed to the success of Big Web Warehouse. We are truly fortunate to have him as a part of our organisation."
Darren's 23-year work anniversary not only symbolizes a remarkable personal achievement but also serves as a testament to Big Web Warehouse's commitment to nurturing and retaining exceptional talent.
As Darren reflects on his journey and looks forward to the future, one thing is certain: their remarkable contributions and unwavering dedication will forever be etched in the chronicles of Big Web Warehouse's history.